Drag has existed in many forms throughout the ages of history. Everywhere from ancient Rome and Greece to a Shakespearean England. What is it about drag that gives the art-form such longevity? Drag has become one of the fastest growing sub-cultures in the Western World. Adam Reilly immersed himself in the culture and sat down with a young up-and-coming Dublin queen named Bonnie Ann Clyde and global superstar Bianca Del Rio.
Every Monday night James turns himself into Bonnie Ann Clyde as he preforms with a drag show in The George, one of Dublin's most popular gay nightclubs. The prep-work involved in getting into drag can take these girls hours to get ready, between the painting of faces, wigs and the tucking of bits. Thanks to television shows like RuPaul's Drag Race people often perceive drag as a glamorous and easy-going job. While it's certainly not your tedious 9 to 5 office job it does have its restrictions. It is near impossible for these girls to make a living on drag alone so many of the drag queens in Dublin will have to take on a second job. According to James, depending on your look you might not start getting paid for your performance for several years. It took James more than two years to start earning money as Bonnie Ann Clyde but some of the queens he works with went without pay for five years.
There isn't as much opportunity in Dublin for these young queens compared to their US counterparts. America has seen a massive increase in the Drag industry due to the popular reality television show RuPaul's Drag Race. The show has launched the careers of over 100 of the most recognized performers in the industry. With the show breathing new life into the drag subculture it also brought other important issues to the fore namely the transgender social movement. The question was put to Bonnie Ann Clyde whether or not drag and trans were essentially the same thing. She replied, "I guess that gender exists on your spectrum, trans people identify as a certain gender whereas I preform gender."
It is clear however that not everyone is a supporter of the drag community in Dublin. One such individual opposed to drag is Irish columnist Oliver Callan. According to Callan, the art of drag takes a direct stance against feminism and he even went on to compare it to performers doing black-face. Oliver Callan is never far from controversy as he "Mansplains" feminism to the rest of the country.
Oliver Callan via The Irish Times

"Straight men should not be the only targets for feminism. Gay men are just as sexist. Take drag queens and their disgusting satire on women. The grotesque female parody of big hair, garish makeup and rib-crunching dresses are no better than wearing blackface or squinting your eyes to do a "stage China-man"."
I sat down with Bonnie and gave her a chance to respond to some of the harsh criticisms that came from controversial columnist, Oliver Callan:
Sometimes aspects of the drag subculture seeps into the mainstream pop-culture such as fashion, performance and even language. Listen below to the full interview with Bonnie where she discusses the state of Irish drag and coming out of the "drag closet".
---
---
Story continued below…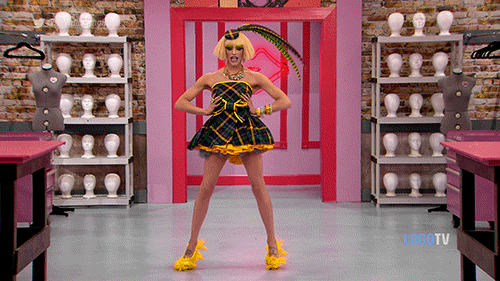 ---
---
Bianca Del Rio is known to many as the most successful drag queen currently working in the industry today. Born, Roy Haylock, he rocketed to fame after winning one of the world's biggest reality shows RuPaul's Drag
Race season 6. In my search for an insight into the Drag subculture, Bianca Del Rio graciously agreed to speak with me over the phone.
"I'm doing drag nineteen years and it will be twenty in January, and Drag Race really happened at a good time for me because I was tired and ready to give up drag and then this amazing opportunity happened."
As we mentioned previously, far too many people do not know the difference between being Transgender and being a Drag Queen. Being trans falls upon the spectrum of gender whereas working as a drag queen is about entertainment. Bianca Del Rio has been working in the industry upwards of twenty years. Before she had made it as a star Roy Haylock performed in small bars in Louisiana not unlike the small gay-clubs in Dublin. Given her experience I asked Bianca whether or not a large percentage of the drag community identified as transgender, to which she replied:
"I think it just depends on the individual, I've met both. I've even met straight men who preform as drag queens and then go home to their wives. I've met every kind of person so I don't think there's any one type more likely to be transgender." 
Bianca Del Rio recently released her debut film entitled Hurricane Bianca where she stars alongside Saturday Night Live alumni, Rachel Dratch and Alan Cumming. The film is set in a small backwards town in conservative part of America where a teacher is fired from his job after being outed as gay. He returns to wreak havoc on the little town as Bianca Del Rio who offers up some cutting comedy but also highlights some of the ongoing social injustices in the United States. Bianca made the film because she was so shocked when she found out that in many states it is perfectly legal to fire someone based on their sexuality alone. While a small number of states will offer job protection in regards to sexual orientation almost none will offer any kind of security for the transgender community which Bianca speaks passionately about. At present the number of states that can discriminate without legal repercussions is a whopping 28. Many of these states also employ laws that allows businesses the right to refuse service to members of the LBGTQ community including land owners and surgeons.
"I think it has changed the world, not just for the LGBTQ communities. It has opened the mind of a lot of straight people. The majority of people who follow me on Instagram and Twitter are straight. A lot of people have misconceptions about the show, they assume that all drag queens just want to be girls."
Listen below to hear Bianca Del Rio discuss Drag Culture, Hurricane Bianca and social inequality in the United States:
Like what you see… A Conversation with a Cancer Survivor